Our Previous Featured Student Teams!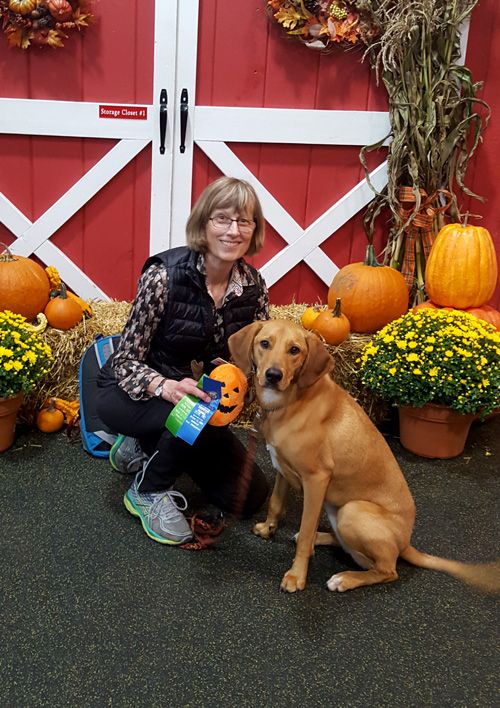 Bonnie Black and Tika
One year ago, Bonnie was in tears. Since rescuing Tika the year before, she had tried every avenue of training: private, group lessons and working with Tika one-on-one. While Tika had made progress on basic obedience, the dog was unreliable and just as high strung as always. Worst of all, Bonnie did not feel the connection between them. She was overwhelmed, frustrated and disappointed.
I was absolutely overwhelmed and feeling hopeless with my lack of connection with this crazy wild rescue.
~ Bonnie Black
Lisa invited Bonnie to stay to watch a Behavior 1 class, the entry level group into Lisa's behavioral training program for dogs with anxiety, reactivity, aggression and shyness issues. Bonnie marveled at how settled and peaceful these "difficult" dogs were next to their owners. And that was only week 2 of class!
When I left [Lisa's] place, I told my friend…"I would give a million dollars if I could get Tika to settle like that by next year!"
To strengthen the bond between Bonnie and Tika, Lisa invited Bonnie to join one of her group training classes at AAMD. To enhance Bonnie's leadership skills and to build mutual respect between dog and handler, Bonnie and Tika enrolled in agility and canine good citizen workshops.
Now, one year later:
Tika passed her Canine Good Citizen test!
Tika achieved her AKC Trick Dog Novice, Trick Dog Intermediate, and Trick Dog Advanced titles, in addition to her Companion Dog Sport Program Starter Novice title, AKC Beginner Novice Title, and AKC Rally Novice title.
This amazingly bonded pair are starting to work on Advanced Rally and Novice Obedience.
Now it IS "next year" and while I have much, much work to do still, we are really making so much progress. We are able to truly enjoy each other, at long last.
And perhaps most important of all, while attending the Amherst, MA AKC trials in October 2018 – Bonnie and Tika spent hours between events having fun, hiking and swimming in the woods!
We are so thrilled to see our students living their dreams with their dog! Whahoo! Congratulations Bonnie and Tika!!
I am grateful for your wisdom and guidance! See you tomorrow.
~ Bonnie Black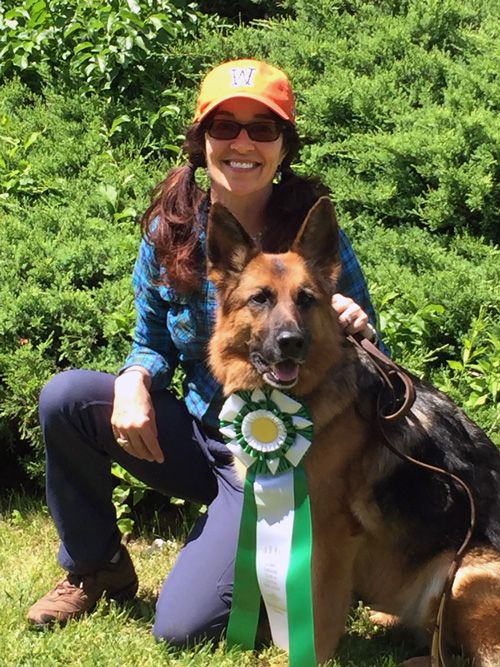 Kathy and Georgie
Kathy Cleaver started working with Lisa Rockland six years ago, when Georgie, a German Shepherd dog, was less than one-year-old. Georgie had very high prey drive. When Lisa first met the pair, Kathy and the young Georgie did not understand each other. They were not communicating, which in turn was making Georgie reactive. Lisa helped Kathy learn the communication skills and calmness necessary to become the leader Georgie needed. As dog and handler began to talk to each other in a way the other understood, their bond grew along with their confidence.
But a dog with a big drive needs a big job. So two years ago, Kathy led Georgie into the world of AKC tracking, which requires a high level of trust between handler and dog. Georgie is now a Champion Tracker, having achieved the very difficult task of winning all four tracking titles. Last fall, Georgie earned her Scentwork Novice title (which includes four separate titles), as well as her Scentwork Handler Discrimination Advanced and Scentwork Exterior Advanced title, and of course her Canine Good Citizen certification!
Congratulations to Kathy and Georgie!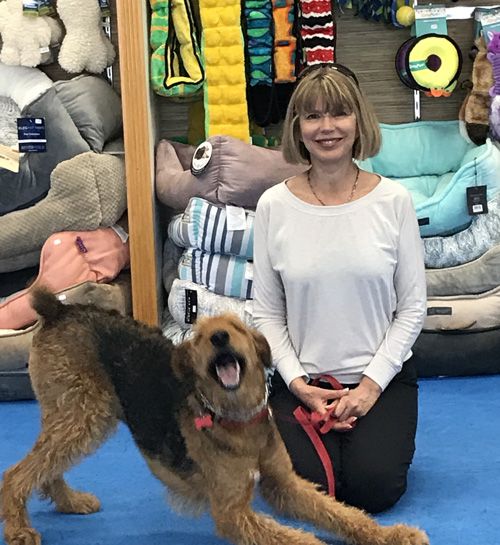 Debbie and Stella
Lisa Rockland was driving along when she noticed an elegant woman walking a lively young Airedale terrier—loose leash, no pulling, no barking at other dogs, both enjoying their outing—and Lisa thought, that's what a walk should look like, that's what we teach!
Turns out that the pair that caught Lisa's eye was All About My Dog's very own Debbie Raizman and beautiful Stella!
Congrats to Debbie and Stella.
You're our featured students! Well done!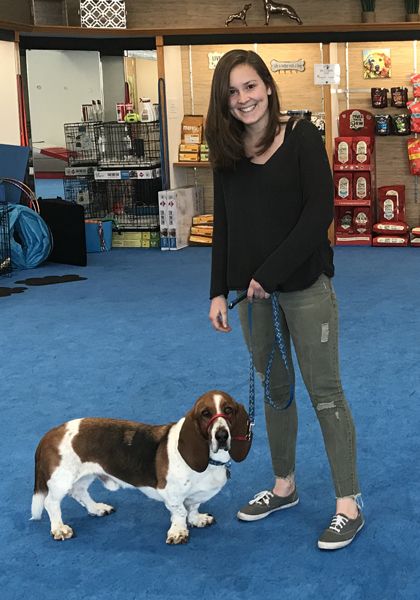 Savannah & Augie
We're so proud of Savannah and Augie that we'd like to share their success story:
When I rescued 5-year-old Augie, a Basset Hound, in June 2017 he lacked basic training and wasn't house broken or leash trained. Within a week, he had developed separation anxiety, fear around dogs and young children, and became very protective over our home. We tried obedience classes, but he still showed aggression towards visitors, growled at other dogs, and barked non-stop in the morning starting at 5AM. I eventually discovered All About My Dog online after an aggressive incident towards a family member left his future of safely returning to college with me in jeopardy.
In November 2017, I started with an in-home private lesson and was so impressed by the instant improvement that I began attending regular behavior classes. Our training time was limited as I had to return to school in Colorado the following January so we signed up for as many classes as possible in the few weeks that remained. Using Lisa's methods, Augie and I progressed dramatically. For our last class we attended a playgroup where he met almost every dog independently and without issue. In just a few short weeks he had moved from snapping at other dogs every time they sniffed him to calmly sharing proper introductions with a variety of other dogs.
Using Lisa Rockland's unique behavioral model, I learned how to help Augie through a variety of stressful situations and he is a completely new dog. We were even able to conquer fears of the vacuum cleaner, the nail dremel, and visitors in our house. Plus he sleeps through the night! Our next goal is to pass the Canine Good Citizen Test, which I never would have dreamed of before we started training at All About My Dog.
~ Savannah Snell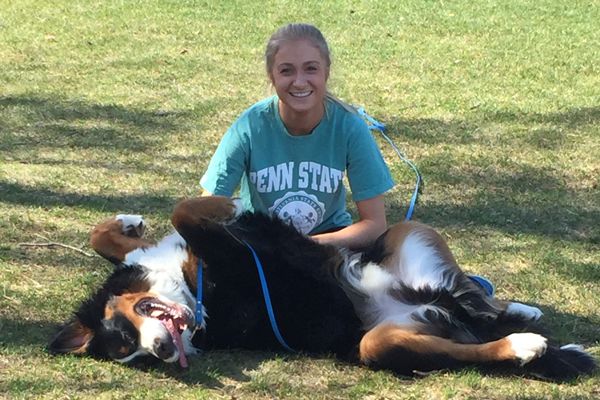 Bentley is a one year old, 100 pound Bernese Mountain Dog. He started out as a rambunctious big boy with very bad leash manners. He also was very fearful when it came to meeting dogs and people. During the short time that Shayna has been working with us, she has had miraculous improvements with Bentley. He has met over 100 dogs and their people with very little fearfulness any longer. He even got invited on an advanced class field trip and did great! He has found a love for agility and all of the confidence it gives him. He was unable to step over an 8-inch board when he started, but has quickly mastered our most advanced obstacles. Now that Shayna knows how to lead him, they are enjoying their ability to communicate with each other in a way they both understand. On April 29th Shayna and Bentley passed their CGC test, earning Bentley the well-deserved Canine Good Citizen title! Congratulations to both of you!
Not only has Shayna made a big difference in Bentley's life, but she has also made a big difference in our lives at All About My Dog. We love having her positive attitude and smiling face at our dog center. Come meet this dynamic duo and let them bring some extra joy into your day.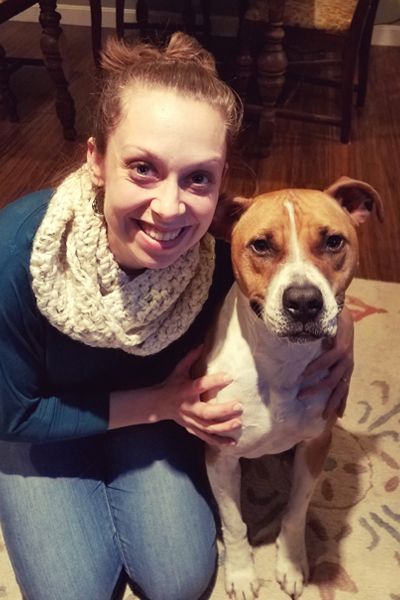 Jamie & Charlie
Charlie was adopted three years ago by Jamie and her husband from a Pit Bull rescue as a sweet, sensitive dog. Through their time together Charlie had quickly developed aggression towards other dogs. Despite their efforts to help him they were not seeing the results they wanted, and thought that they had failed him and his breed. They did not want him to become a stereotype. Walks had become impossible because once he was focused on a dog, he triggered. They were close to giving up. Thankfully, Charlie started the behavior series in July 2016. During his first session he was able to tolerate being around dogs, and within 5 months he was able to do meets and greets, even on their own outside of class. They have now graduated into the good dog series and playgroups where they are putting all the skills they learned into action, as well as learning more.
We are so proud of them! Congratulations to you both.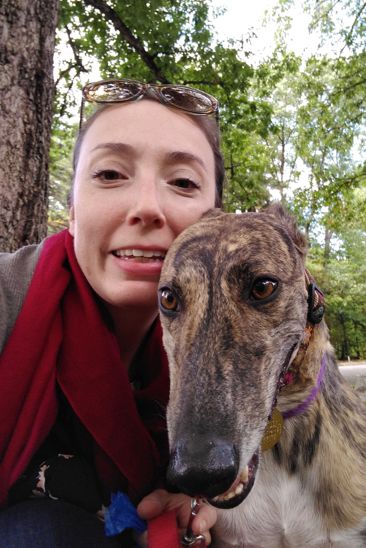 Kim & Cleveland
Kim & Cleveland started their life together when Kim picked up the gorgeous retired racing hound on August 15, 2015 (full of fleas – "that was fun!") Cleveland was just over two years old when she came home, but she came with some challenging behavior problems and the two quickly started class with Lisa Rockland just a couple months later. Now, Cleveland has not only graduated from the Behavior classes but just recently passed her Canine Good Citizen® test AND the Pets & People therapy dog test!!! Now Kim and Cleveland are spreading joy (and greyhound wiggles) to everyone they meet.
Awesome job you two!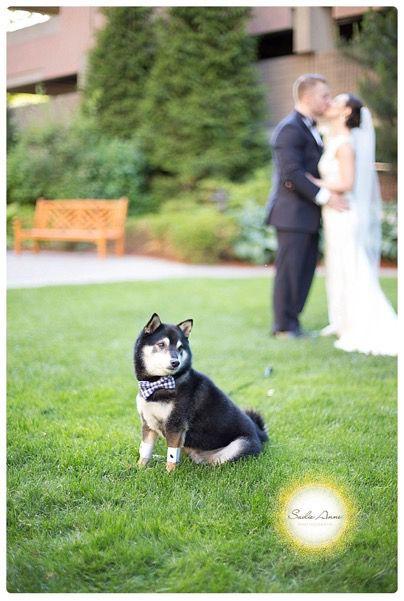 Congratulations
Laura & Justin!
They were married on June 18th in Cambridge, MA with the help of Tyson, their 4 year old Shiba Inu. Tyson wowed the crowd by marching flawlessly down the aisle and delivering the ring to the best man.