Spring is here (at last!) Summer is around the corner. At All About My Dog, we thought it would be fun to talk about great outdoor activities you can share with your favorite canine pal. First up in our series is…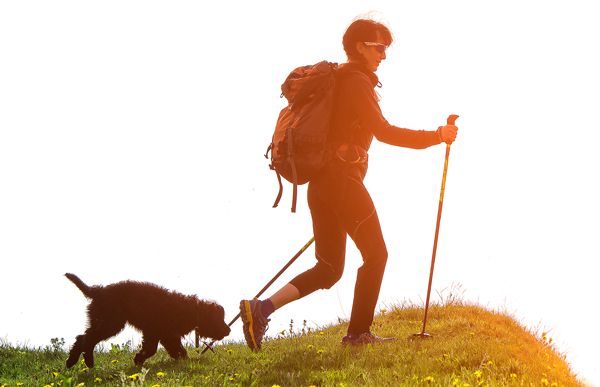 Conditioning
Like us, dogs need to be in good physical condition in order to hike a trail. 
To get your dog in shape, start with a series of short hikes. Shorter walks on similar terrain to where you intend to hike will toughen your pup's paws and build stamina. Keep your initial walks between 15 and 30 minutes. Build from there.
Check your dog's weight (make sure it's appropriate for the level of exertion you plan), and trim your dog's nails.
Feed your dog a healthy, high protein diet. Remember while hiking, to increase the amount of food your dog eats. Feed smaller portions more frequently and supplement with protein-packed treats.
Training
For safety reasons, your dog should obey simple commands like stay, sit and heel, even when face to face with a squirrel. Never let your dog chase wildlife or disturb other hikers. If you need a training session or two to reinforce these simple behaviors before your trip, plan ahead. 
Dog-friendly Trails
Dog-friendly trails and establishments literally criss-cross the USA. Check out dog-friendly.com for a list of places in your region. Avoid crowded trails, i.e. trails used heavily by equestrians, mountain bikers and bus loads of tourists. Do find fun, easy, shady, dirt trails that you can enjoy with your best pal.
Hydration
Like us, hiking dogs need about 8 oz of water every hour. Dispense water in small amounts. Large dogs tend to be prone to bloating from filling up on too much water. To avoid giardia, have your dog drink the same water that you do. Early signs of dehydration are dry nose, dry mouth, and sunken eyes. 
First Aid
Ticks can cause severe health issues. Invest in good preventative care for ticks. We recommend Eqyss "Flea Bite" Flea & Tick Spray (available at the Dog Center). Duck tape and a spare sock make a good bootie to protect an injured paw. Store-bought booties are good for extreme hot, cold and rough terrain.
To be ready to go hiking, you need to Plan and Prepare!
Supply Checklist
Water
Tick Spray
Leash or Long Line
Treats
Poop Bag
Small Towel
Ball or Frisbee