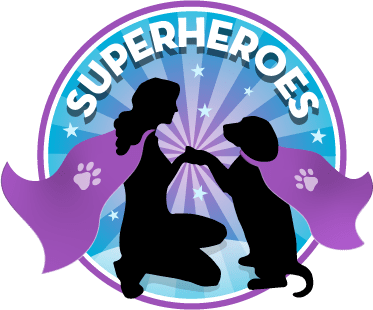 We are so incredibly proud of our owners and dogs that we've decided to share our superhero success stories!
". . . I hope our story will give others hope to not give up on their four legged friends, even in the trickiest times."
~ Kristin Black
Meet Leilani Black!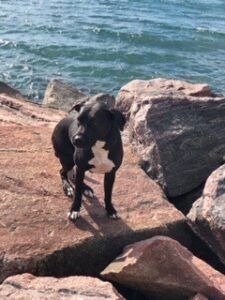 When you hear the name Leilani, you might not think about shoes. But that's exactly what the Black family thinks about. 17 pairs of shoes
—yup, 17—that Leilani, or Lou as the family calls her, chewed to bits!
The Blacks and their girls adopted Lou in November 2017 when the lab-great dane mix pup was 9 months old. To the family's surprise, Lou was too fearful to step outside or stay downstairs; she burrowed into the Black's bed to hide. Lou was afraid to wear a collar. She could not tolerate a leash. She chewed walls, destroyed crates, and ate remote controls. Add to that, those 17 pairs of shoes, 2 chewed bedspreads, and at least one incident where Lou flipped herself upside down in her own crate and you get one frustrated family. At wit's end, the Blacks called Lisa!
Within 2 hours, Lisa helped the family walk Lou up and down the stairs with quiet confidence. She showed them how to walk Lou around the house, down the stairs, and outside. Lisa demonstrated how the family could invite Lou off the bed with a leash. In group classes, Lou came out of her shell even more. Her confidence improved. She started wearing a collar, walking on a leash, and taking passing cars, dogs and loud noises in stride!
In February 2018, the Blacks with superhero Lou moved to Canada.
"In February we brought her to Canada, where we now live and we started to see her become a 'dog.' She would go to the beach with us, and was so happy!"
~ Kristin Black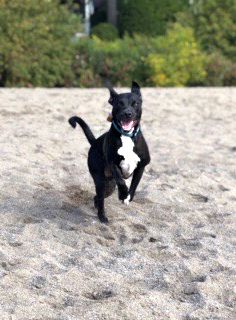 BEFORE Lisa, Lou…
Couldn't stay downstairs—she bounded up to the second floor where she hid in her parents bed and wouldn't come out.
Had to be carried out the door.
Chewed shoes, bedspreads, remote controls, and walls.
Refused to wear a collar.
Could not tolerate a leash.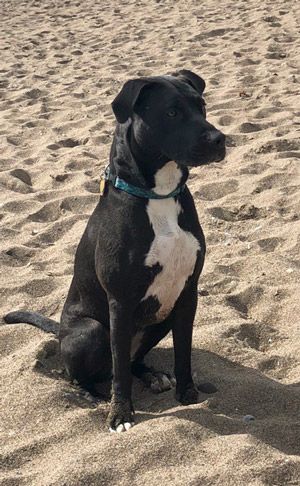 NOW Superhero Lou…
Comes into the house when called.
Comes when called off leash!
Walks in downtown Toronto – passing street cars and people!
Plays with other dogs!
Travels to the beach.
Swims with her family.
And (holy good elk antler!) Lou retrieves sticks!
"She [Lou] is such a love and we are blown away [by] how far she has come. She has made our family complete. This would NOT be possible without Lisa."
~ Kristin Black